At SGA our focus is on delivering cost-effective and environmentally friendly cleaning solutions to our customers, with the aim of reducing cleaning time and costs while achieving the highest standards in safety. We partner with the very best suppliers in the industry, allowing us to deliver the highest quality cleaning systems to our customers. We also provide installation service and ongoing maintenance support for all our equipment. We work with you to find a solution that fits your needs.
All our suppliers' equipment has been carefully selected by SGA through extensive research, trials and tests; we only work with the best in the business. Our three key equipment suppliers offer the highest quality products for both value and performance, ensuring our customers achieve the highest standards in food hygiene.
Lagafors
Arguably the global leading business in the industry, Lagafors develops and produces innovative cleaning systems and tailor-made hygiene solutions for the food industry, with a focus on cost-efficiency and reducing environmental impact.
SGA can provide your facility with a custom array of distinct hygiene solutions from low-pressure Centralised and Decentralised cleaning systems to mobile units, parts and accessories. Lagafors systems are at the cutting edge of hygiene in the food industry and are our choice for the most flexible and reliable cleaning systems to protect your product.
The Decentralised Cleaning System (DCS) is our most commonly supplied system, featuring a water pump (mother station) unit located either inside or outside the production area that extends into a number of satellite stations strategically situated throughout the area. Each satellite station comprises a hose connection for pressurised water, chemical solution and disinfectant solution, offering a dynamic and flexible performance and making the cleaning process easy.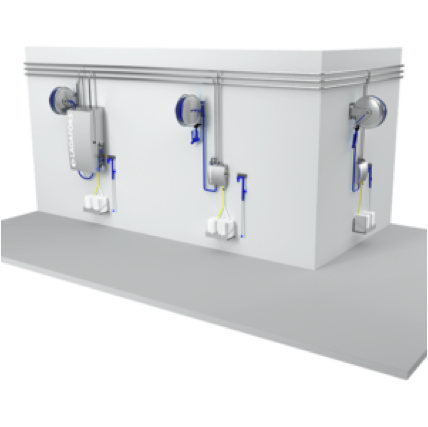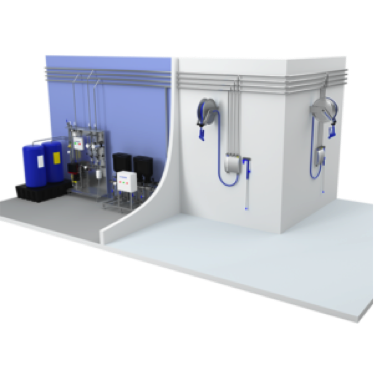 The Central Cleaning System (CCS) works similarly to the DCS, however the water pump and variable chemical centres are housed and controlled in one central location, connecting media satellites throughout your plant via a pipe system. With the central dosing and storage of chemicals, this means that no concentrated chemical solutions are handled or stored within your production areas, whilst servicing, maintenance and settings can all be made centrally in one place. The central components provide the correct pressure, flow and chemical concentration where they are needed, subsequently reducing the use of warm water and chemicals resulting in less water wastage. The CCS meets the highest standards for capacity, performance and quality, and enables you to obtain ultimate hygiene results at a reduced cost with minimal environmental impact.

SGA is the sole distributor for all Lagafors equipment within Australia and New Zealand.
FOAMICO®
With operations in 30 countries across 5 continents, FOAMICO® is a manufacturer of high quality cleaning solutions in the food and beverage industry, receiving high recognition for their products' efficiency and reliability.
FOAMICO® supplies a variety of high quality stainless steel accessories that are purpose-built and compatible with our equipment range. As an alternative to our premium range of equipment and accessories, our variety of FOAMICO® products offer an affordable and reliable solution to complement your cleaning system.
With colour coded nozzles and lances as well as hoses, hose holders, spray guns and low-pressure valves, we can kit out your cleaning system for optimal user friendliness, organisation and quality performance.


The Klarion™ System
Produce powerful cleaning & sanitizing solutions in ready-to-use concentrations on-demand in your facility.
enrich360® Food-waste Dehydrator
The world's fastest food-waste dehydrator.
Get in Touch
For a first-class hygiene solution, get in touch with us to experience the cutting-edge in equipment and a tailored solution for your facility.